How a Chiropractor Helps Your Joints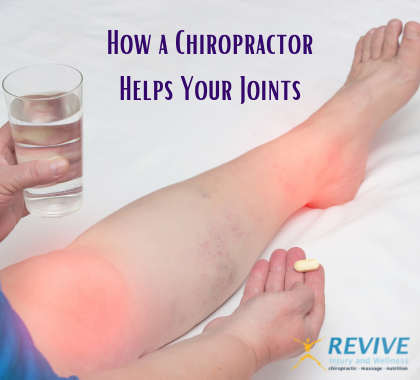 Chiropractors are healthcare professionals who specialize in diagnosing and treating conditions related to the musculoskeletal system, particularly the spine. While chiropractic care is often associated with spinal adjustments, it also provides significant benefits for joints throughout the body. 
1. Assessing Joint Function:
A chiropractic examination begins with a thorough assessment of joint function. Chiropractors use various diagnostic techniques, including physical examinations, medical history reviews, and imaging tests, to evaluate joint mobility, stability, and overall alignment. This assessment helps identify any joint-related issues or imbalances.
2. Manual Joint Manipulation:
One of the primary techniques employed by chiropractors to improve joint function is manual joint manipulation, also known as chiropractic adjustments. These adjustments involve applying controlled and precise force to specific joints, primarily targeting the spine but also extending to other joints in the body. By performing these adjustments, chiropractors aim to restore proper joint alignment, enhance mobility, and alleviate pain or discomfort associated with joint dysfunction.
3. Joint Mobilization Techniques:
In addition to adjustments, chiropractors utilize various joint mobilization techniques to enhance joint mobility and flexibility. These techniques involve gentle movements and stretches aimed at reducing joint stiffness and promoting optimal range of motion. Joint mobilization techniques may include passive movements, therapeutic exercises, and soft tissue therapies to alleviate tension and improve joint function.
4. Soft Tissue Therapies:
Chiropractors often incorporate soft tissue therapies alongside joint adjustments and mobilization techniques. These therapies target the muscles, tendons, ligaments, and other soft tissues surrounding the joints. Common soft tissue therapies used by chiropractors include massage, myofascial release, trigger point therapy, and instrument-assisted techniques. By addressing soft tissue restrictions and imbalances, chiropractors can alleviate tension, reduce inflammation, and enhance joint function.
5. Posture and Body Mechanics:
Chiropractors emphasize the importance of good posture and proper body mechanics in promoting joint health. They educate patients about ergonomics and provide guidance on maintaining proper alignment during daily activities, such as sitting, standing, lifting, and exercising. By optimizing posture and body mechanics, chiropractors help distribute forces evenly throughout the joints, reducing the risk of joint stress and injury.
6. Rehabilitation and Exercise:
Chiropractors often prescribe specific exercises and rehabilitation programs to support joint health and recovery. These programs are tailored to individual needs and may include stretching, strengthening, and stability exercises. By improving muscle strength and flexibility, patients can better support their joints, reduce pain, and prevent future injuries.
7. Holistic Approach to Health:
Chiropractors take a holistic approach to patient care, considering the overall well-being of the individual. They assess factors beyond joint health that may impact joint function, such as nutrition, lifestyle habits, stress levels, and other underlying health conditions. By addressing these factors, chiropractors aim to optimize overall health, which indirectly supports joint health and function.
Chiropractors play a significant role in improving joint health and function by utilizing various techniques, including joint adjustments, mobilization, soft tissue therapies, and rehabilitative exercises. By addressing joint alignment, mobility, and stability, chiropractic care can alleviate pain, reduce joint dysfunction, and enhance overall joint function. Through a holistic approach, chiropractors consider the interconnectedness of the musculoskeletal system and its impact on overall health and well-being. If you are experiencing joint pain or dysfunction, consulting a chiropractor can provide valuable insights and treatment options to support your joint health and enhance your quality of life.
More on Our Services
Ergonomics, Posture and Chiropractic Health
5 Questions to Ask Your Chiropractor About Neck Pain
How to Choose the Right Chiropractor
5 Things to Consider When Dealing with Neck Injuries