REVIVE INJURY AND WELLNESS CHIROPRACTIC CARE AND MASSAGE THERAPY OFFICE TOUR IN WEST LINN, OR.
VIDEO TOUR OF THE REVIVE INJURY AND WELLNESS OFFICE
The Revive Injury and Wellness Office is located in West Linn, Oregon at:
1750 Blankenship Road # 295
West Linn, OR. 97068
At Revive Injury and Wellness in West Linn Oregon we specialize in chiropractic care, massage therapy, and back pain and neck pain relief, Our chiropractors treat auto accident and work-related injuries. If you are struggling with neck or back pain, headaches or migraines, sciatica, or any other muscle or joint pain, please call us today or visit our website and take advantage of our new patient special. We utilize gentle chiropractic techniques, massage therapy, rehabilitative exercises, nutritional support and supplementation, and cold laser therapy to help you recover from back and neck injury and lead a healthier, happier, pain-free life without the need for drugs and surgery.
CHIROPRACTIC CARE IN WEST LINN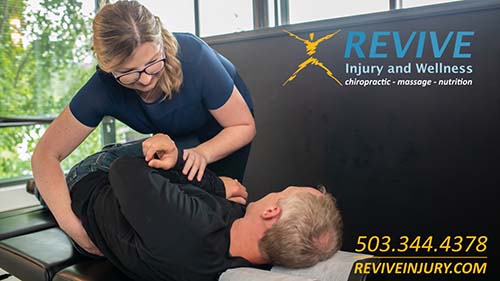 When you arrive at Revive Injury and Wellness for chiropractic care in West Linn, we start with our Signature 5-Phase Bio-Structural Evaluation to first discover where your mechanical or structural deficiencies are located. We evaluate your chief complaint and address all areas of pain and structural misalignment in your back, neck, spine, shoulders, arms, and legs.
The chiropractic patient evaluation begins with a thorough chief complaint history, health history, and digital posture evaluation, followed by full orthopedic, neurologic, and chiropractic exams. We evaluate your entire spine and limbs in the initial exam to get a full understanding of your biomechanics. Once your diagnosis is made the doctor will prepare a treatment plan designed specifically for you and explain your condition and the chiropractic treatment process.
Our experienced chiropractors also offer chiropractic care for kids in West Linn.
MASSAGE THERAPY IN WEST LINN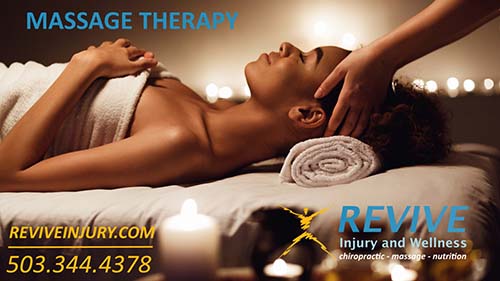 If you are looking for healing, relaxing massage therapy in West Linn OR. Revive Injury and Wellness is the place for you! Therapeutic massage for relaxation, injury recovery, and improved blood circulation through advanced therapeutic massage techniques, deep tissue massage and trigger point therapy serving West Linn and the surrounding communities of Oregon City, Gladstone, Tualatin, Milwaukie, Wilsonville, Beavercreek, Canby, Molalla, Mulino, Clackamas, Willamette, Lake Oswego, and Happy Valley in Clackamas County Oregon.
Learn about all of our massage therapy techniques at Revive Injury and Wellness.
Massage therapy combined with chiropractic care and cold laser therapy can help you heal injuries from an auto accident, pulled or strained muscles, back, neck and shoulder pain or headaches and migraines.
We offer a New Patient Special if you are in need of a chiropractor or massage therapist in West Linn, Oregon.