Our Massage Therapy Techniques in West Linn

Massage Therapy
At Revive Injury and Wellness in West Linn, we practice many different types of massage. Below you will find descriptions of the different techniques we offer.
---
Medical Massage in West Linn
This type of massage is specifically directed to resolve conditions that have been diagnosed by a physician. Physician referral is required for this type of massage. We use a variety of modalities and techniques dependent on the condition being treated. Specific goals and results are measured to determine progress.
---
Supportive Care Massage
This type of massage is directed by the patient and the massage therapist. Supportive care massages are designed to decrease muscle tension, improve circulation, rejuvenate, refresh, and relax our patients.
---
Cupping
Cupping is a negative pressure technique. Instead of pushing into the tissues the skin and superficial muscle fascia is drawn into the cup to provide release. 2 types of cupping used are stationary and mobile or gliding. Traditionally cupping is done with an open flame and a glass cup. The flame burns out the oxygen in the cup creating a vacuum and the cup is place quickly onto the skin. The plastic pump suction system helps control the amount of suction on application and during the treatment. Treatment is always done with oil or lotion to help create a good seal and for comfort.
In early treatments cupping will most likely leave discoloration of the skin. As the tissue is drawn into the cup, toxins and stagnant blood are drawn into the subcutaneous layer where lymph will eventually take it away. Marking can last anywhere from 3-10 days but most marks are gone in about a week. Multiple treatments leave less and less discoloration and typically after 3 treatments about 2 weeks apart there is no more "bruising". A person's skin color also factors into the amount of discoloration that can appear. Very light skinned people will usually have more discoloration than darker skin. Discoloration is not a sign of an effective treatment!
---
Prenatal Massage
This type of massage is designed for soon to be mothers who are having aches and pains due to pregnancy. Muscle are worked in a way that is safe and comfortable for both mother and baby. We use a special pregnancy pillow that enables women to lay face down no matter how far along she is. Common conditions we treat during pregnancy are low back pain, edema, foot and leg cramps, abdominal discomfort, stress and tension. All our massage therapists are trained in prenatal massage. We do not recommend massage therapy for mothers in their first trimester.
---
Trigger Point Therapy
A specialized therapy used to treat hyperirritable knots known as myofascial trigger points. These tight points often cause referral pain in nearby areas but are the root of the issue. This is a very focused and effective deep tissue technique that targets the origin of these reactions in the body and work to release trigger points.
---
Temporomandibular Jaw Massage
This type of intraoral and external work focuses on the muscles that open and close the jaw. Gloved hands are used on the insides of the mouth to release tension. This can be an effective treatment for teeth grinding (bruxism), headaches, clenching, and jaw pain.
Chiropractic Care & Massage Service Areas
The Revive Injury and Wellness chiropractic care, Deep Tissue massage therapy and cold laser therapy office is located in West Linn, OR. and we often have clients drive from the nearby communities of Oregon City, Gladstone, Tualatin, Milwaukie, Wilsonville, Beavercreek, Canby, Molalla, Mulino, Clackamas, Willamette, Lake Oswego, and Happy Valley Oregon for our expert chiropractic care, therapeutic massage, cold laser therapy and nutritional support.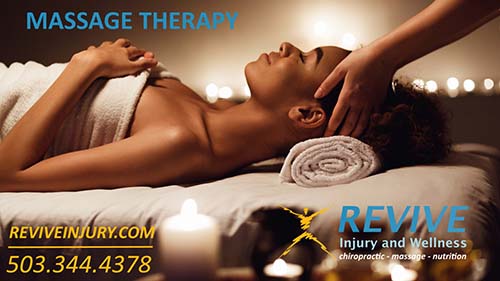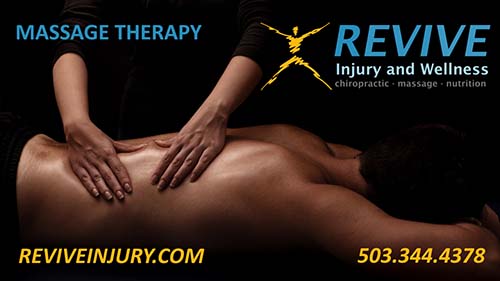 OFFICE HOURS
---
Monday
9:00am - 1:00pm
2:00pm - 5:00pm
---
Tuesday
9:00am - 1:00pm
2:00pm - 5:00pm
---
Wednesday
9:00am - 1:00pm
2:00pm - 5:00pm
---
Thursday
9:00am - 1:00pm
2:00pm - 5:00pm
---
Friday
9:00am - 1:00pm
2:00pm - 5:00pm
---
Saturday & Sunday
Closed