Chiropractic Care in West Linn

At Revive Injury and Wellness, we take great pride in providing the finest chiropractic care to each and every patient. We have included information below about the different chiropractic services offered in our West Linn chiropractic office, but please call us if you have any questions!
---
Chiropractic Care in West Linn Oregon
Every Revive chiropractic patient begins with a thorough chief complaint history, health history, and digital posture evaluation, followed by a full orthopedic, neurologic, and chiropractic exams. We evaluate your entire spine and limbs in the initial exam to get a full understanding of your biomechanics. Once your diagnosis is made the doctor will prepare a treatment plan for you and explain your condition. In our office, most of the patients receive chiropractic, massage therapy, therapeutic exercise and supplementation to overcome their ailment. Our average treatment plan is 10-16 visits. We encourage our patients to work with us like a team to achieve fast, permanent results.
We customize the chiropractic techniques to each specific patient and their condition. Revive is well known for its gentle, low-force techniques. We have many patients that do not tolerate or like the traditional "popping" adjustment. Although we can use our hands to perform traditional chiropractic manipulations, we also use an adjusting tool called an arthrostim (like a mini jack hammer) and a drop table (the drop table has mechanical pieces that prop up a ½ inch. The doctor puts their hands on the joint into the direction it needs to move. The hands plus the drop of the table sets the joint. This is not painful). Many of our patients have osteoporosis, severe arthritis or degeneration, or other conditions that are contraindicated to a traditional manual chiropractic adjustment.
Revive is also known for treatment of conditions of the arms, legs, hands, feet and jaw. Often, the area of pain is due to a problem in an adjacent joint. This is why every patient receives a thorough, full-body evaluation on their initial visit. Our doctors train extensively on the treatment of conditions of the joints In the hands, feet, knees, hips, elbows, wrists, shoulders, and jaw. Our massage therapists are also trained in extremity work as well.
Therapeutic stretches and exercise are key in helping you continue your healing progress outside of the office. The doctors ask every patient to work with them as a team as they strengthen and stretch to achieve long, lasting permanent results.
OFFICE HOURS
---
Monday
9:00am - 1:00pm
2:00pm - 5:00pm
---
Tuesday
9:00am - 1:00pm
2:00pm - 5:00pm
---
Wednesday
9:00am - 1:00pm
2:00pm - 5:00pm
---
Thursday
9:00am - 1:00pm
2:00pm - 5:00pm
---
Friday
9:00am - 1:00pm
2:00pm - 5:00pm
---
Saturday & Sunday
Closed
Chiropractic Care in West Linn Oregon
Chiropractic Care for Kids in West Linn
Massage Therapy in West Linn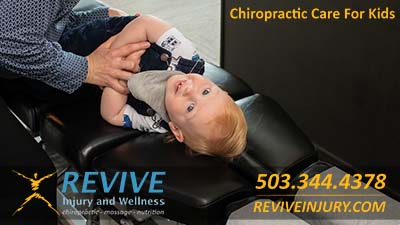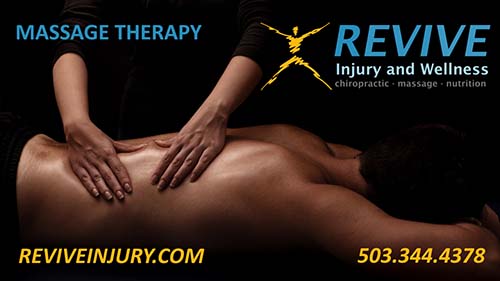 Chiropractic treatment for a child begins with an extensive examination to determine the exact issue and the best route for treatment. Even if your child is too young to communicate, or too shy, a chiropractor has the skills to work with them to find out exactly what is going on before proceeding with treatment, if it is determined treatment is needed. Gentle and non-invasive adjustments are then made to the spine. Children will often become relaxed and even fall asleep following treatment, a good sign that it has been effective. If you are concerned about your child's spinal health, call our team at Revive Injury and Wellness in West Linn, OR. at (503) 344-4378 to set up a consultation today for child chiropractic in West Linn.
Revive Injury and Wellness massage therapists are skilled healers and over different types of massage techniques depending on your specific need, areas of pain, and desired level of relaxation. Specific goals are measured to determine progress with massage therapy in West Linn.
Massage therapy can work well along with consistent chiropractic care to help heal neck and back pain, headaches and migraines, arm and leg pain, and more.
Book a massage therapy appointment with your Revive Injury and Wellness massage therapist by calling (503) 344-4378.