Animal Chiropractic in West Linn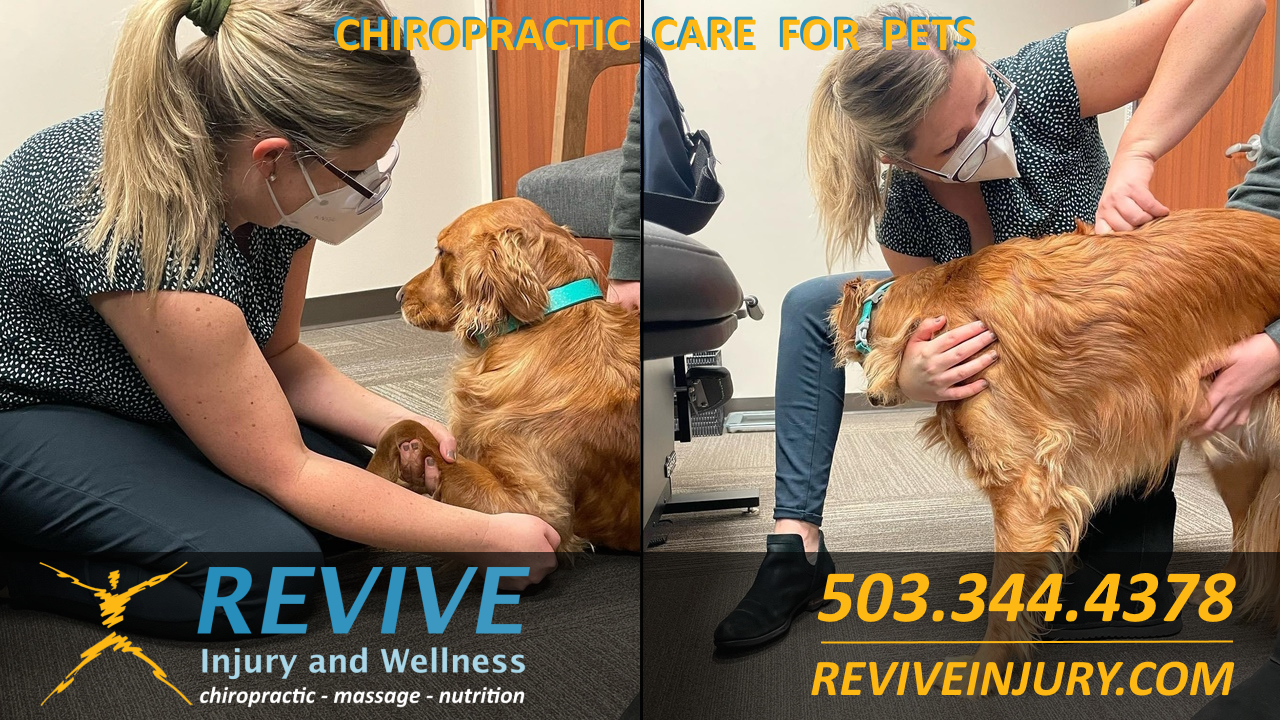 An animal or pet chiropractic adjustment in West Linn is defined as a short lever-controlled thrust by hand or instrument that is directed at specific articulations to correct vertebral subluxations.
It comprises the adjustment of vertebral joints, extremity joints, and cranial sutures. The initial appointment includes evaluating the patient's history, intended use/athleticism, health state and prior x-rays and tests.
A pet chiropractic exam includes a neurological exam, stance and gait analysis and motion and static palpation.
---
Why Animal Chiropractic in West Linn?
Neck, back, leg, and tail pain
Muscle spasms and nerve problems
Injuries from slips, falls, and accidents
Jaw or TMJ problems
Difficulty chewing
Event or sports injuries
Post-surgical care
Bowel, bladder, and internal medicine disorders,
Maintenance of joint and spinal health
Healing/helping with chronic internal medicine disorders
---
Indications for Care
Lameness, trouble getting up and down, athletic competitions,
Surgery involving anesthesia, seizures or neurological problems, recovery from illness or injury,
Geriatric household pet, behavior or mood change,
In horses, signs of navicular disease or laminitis,
Chronic health problems that do not resolve as expected.
Dr. Ramp is a certified animal chiropractor in West Linn through the American Veterinary Chiropractic Association, which is the highest level of education an animal chiropractor can achieve. Our doctors enjoy seeing how quickly and effectively animals respond to chiropractic care. Treatments consist of gentle spinal and extremity manipulation, myofascial release, and cold laser therapy. Doctors are available at the end of each workday after human patient care ends. Dogs, cats, rabbits, and ferrets are treated in the office. Horses, cattle, goats, and sheep are on a farm call basis. Please call the office to schedule, (503) 344-4378.

To learn more about the AVCA this link: www.animalchiropractic.org
In The Following Video Chiropractor Dr. Ramp DC Talks About Chiropractic CAre For Animals and Pets in West Linn, Oregon
OFFICE HOURS
---
Monday
9:00am - 1:00pm
2:00pm - 5:00pm
---
Tuesday
9:00am - 1:00pm
2:00pm - 5:00pm
---
Wednesday
9:00am - 1:00pm
2:00pm - 5:00pm
---
Thursday
9:00am - 1:00pm
2:00pm - 5:00pm
---
Friday
9:00am - 1:00pm
2:00pm - 5:00pm
---
Saturday & Sunday
Closed